DCHS invites reservations for Thanksgiving Day meal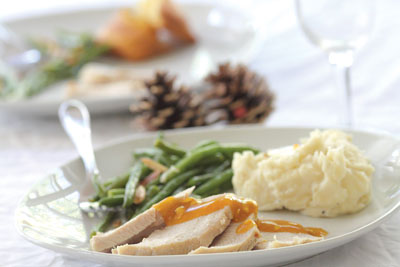 IRON MOUNTAIN — Dickinson County Healthcare System will again offer a free Thanksgiving Day meal for those in the community who are alone for the holiday, unable to prepare a meal or cannot leave their home to enjoy the holiday with family and friends.
For more than 19 years, DCHS has been serving a free Thanksgiving meal and the DCH Activities Committee has again offered to fund it. The DCH Activities Committee conducts internal fundraising, with money raised by and from the DCH staff used to pay for the dinner.
"We have the ability to make Thanksgiving Day a great memory for those who otherwise would not enjoy a nice meal and we couldn't think of better way to do something nice for the community we love," a committee member said. "The meal is so well received and it is an awesome thing our staff is glad to do for our community."
Reservations are needed for these Thanksgiving Day, Nov. 28, meal options:
— Dine-in meals: noon to 1:30 p.m., with meals to be served in the cafeteria.
— Carry out: 11:30 to 11:45 a.m., with meals to be picked up in the cafeteria.;
— Delivery: Meals will be brought from 10:45 a.m. to 12:30 p.m. to residences by volunteer drivers.
To make a reservation, call 906-776-5320 next week during these times:
— Wednesday from 8 to 10 a.m., or 2 to3 p.m.
— Thursday, 8 to 10 a.m., or 2 to 3 p.m.
— Friday, 8 to 10 a.m., or 2 to 3 p.m.
Those who would like to volunteer and assist with the meal service are asked to call 906-776-5521.
Some facts about last year's meal:
— 494 meals served, thanks to the efforts of the hospital's dietary team.
— 81 people dined in; 90 meals carried out; 323 meals delivered.
— Food prepared included 324 pounds of turkey breast, 672 slices of pumpkin pie, four cases of stuffing and three cases of mashed potatoes.